LIFE AFTER GLASS
The studio was getting hotter, and we were getting older and weaker. The glass was getting heavier and sharper. One very hot afternoon, I received a phone call from a Palm Beach art collector. He informed me that he owned the largest collection of Dale Chihuly Glass and he wanted to own all our sculpture. With help from our agent, Jimmy D Robinson, we gathered up all the sculpture in the surrounding galleries, and all the sculpture in our studio. We did the deal, and Jim and I took this rare opportunity to begin a new life. 
This new life jump started when Amber surprised us with the news that we were going to be grandparents for the 3rd time.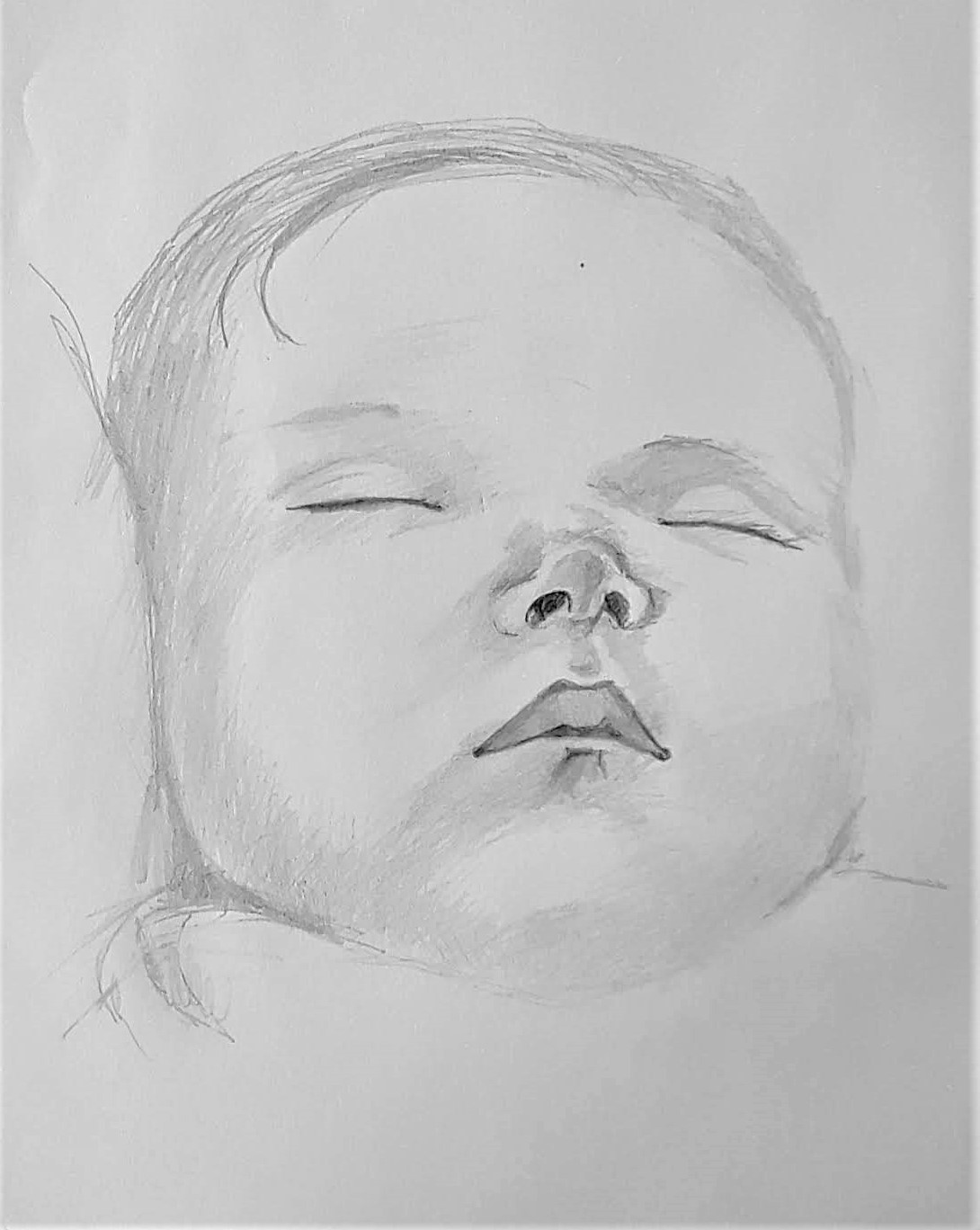 PEPPER pencil on paper 9 x 12 inches
I was relieved that the demands of commercial art were behind me. It had become a chore instead of a pleasure. The only time I allowed myself to be an artist again was when my grandchildren wanted to sculpt and paint. We had so much fun creating without restrictions that I went right back to my old habits of drawing, painting and sculpting. My love for art became the reason I explored the possibilities of associating myself with the local museum. 
THE BOCA RATON MUSEUM DOCENT PROGRAM.
The BOCA RATON MUSEUM OF ART gave me the opportunity to volunteer as a gallery specialist for their AMERICAN STUDIO ART GLASS COLLECTION.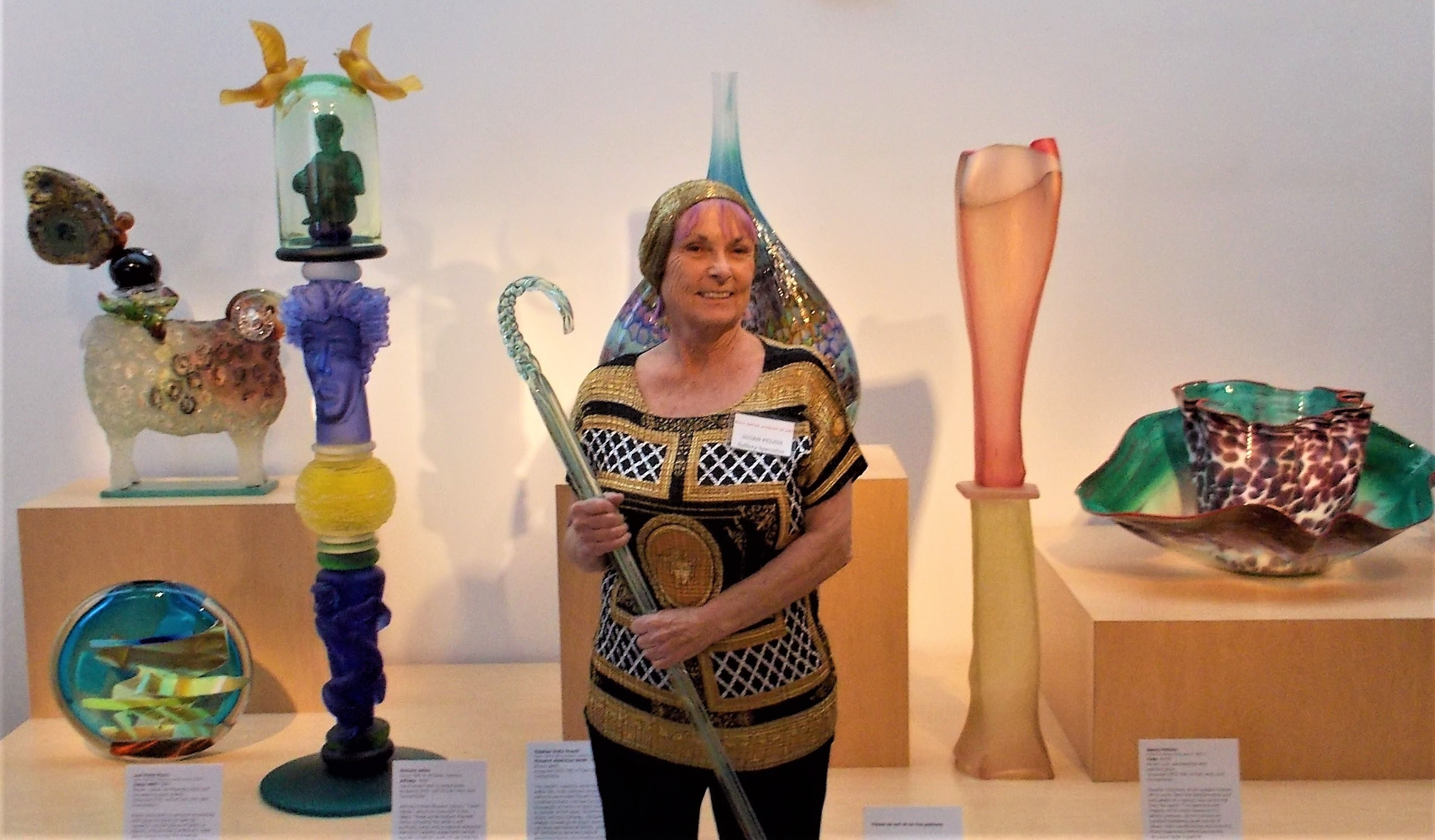 I am holding my West Virginia glass cane in front of a small part of THE BOCA RATON MUSEUM OF ART'S AMERICAN STUDIO ART GLASS COLLECTION.
I enjoyed taking visitors through the extensive collection so much that I signed up for the docent program. It was the best 6 months of studying art. Claire Clum was the the head of the education department and my mentor.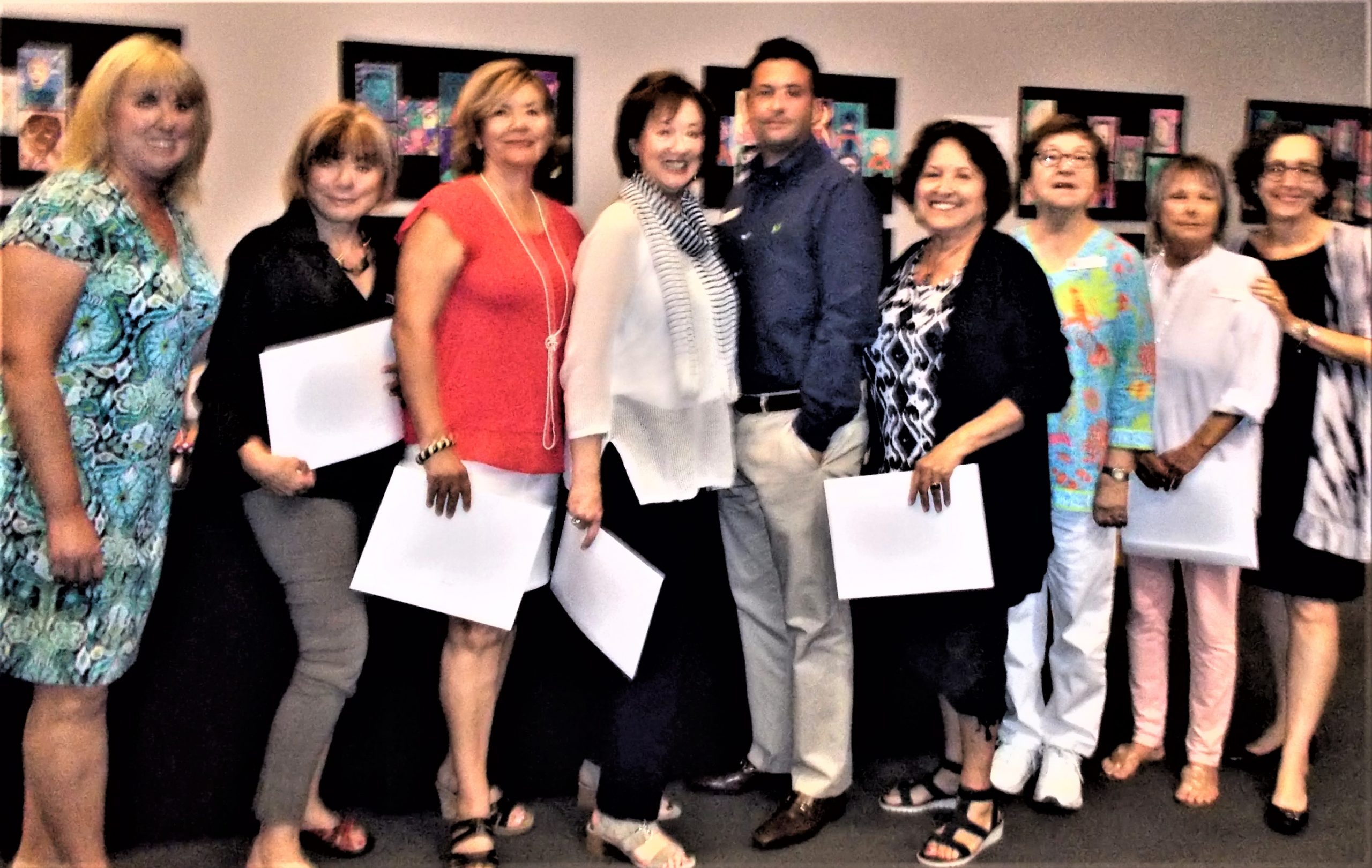 My 2015 graduating class. From the right, Claire has her hand on my shoulder. Bari Martz, far left, was a great positive influence because of her enthusiasm for art.
This was the biggest group to take my tour

I am the red head in the front.
Many of the exhibiting artists were kind enough to take their picture with me.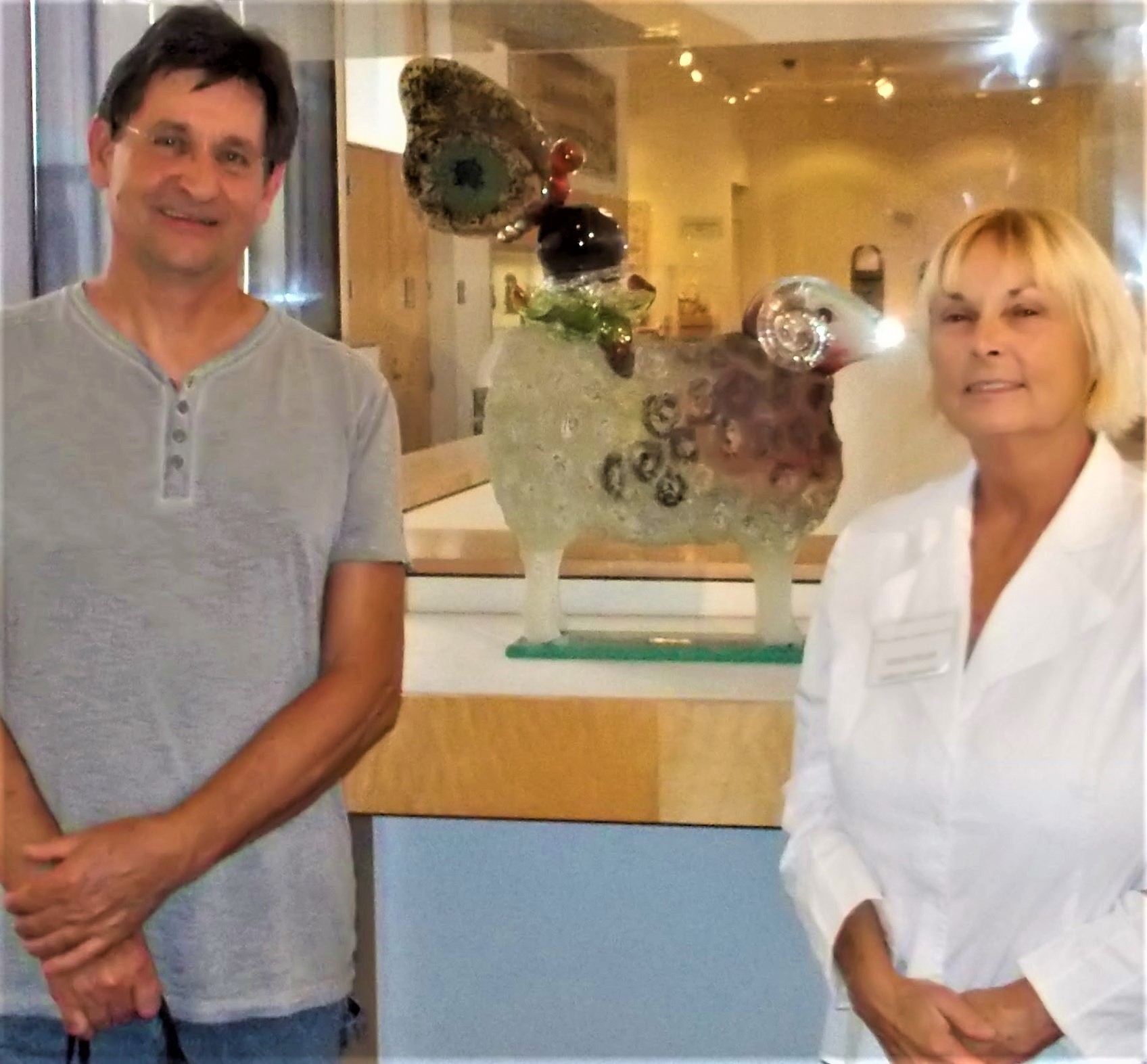 ROBERT PALUSKY, Glass artist. His sculpture, THE RAM is between us.

DANIEL GORDON. Photographer. He was quick but I was quicker.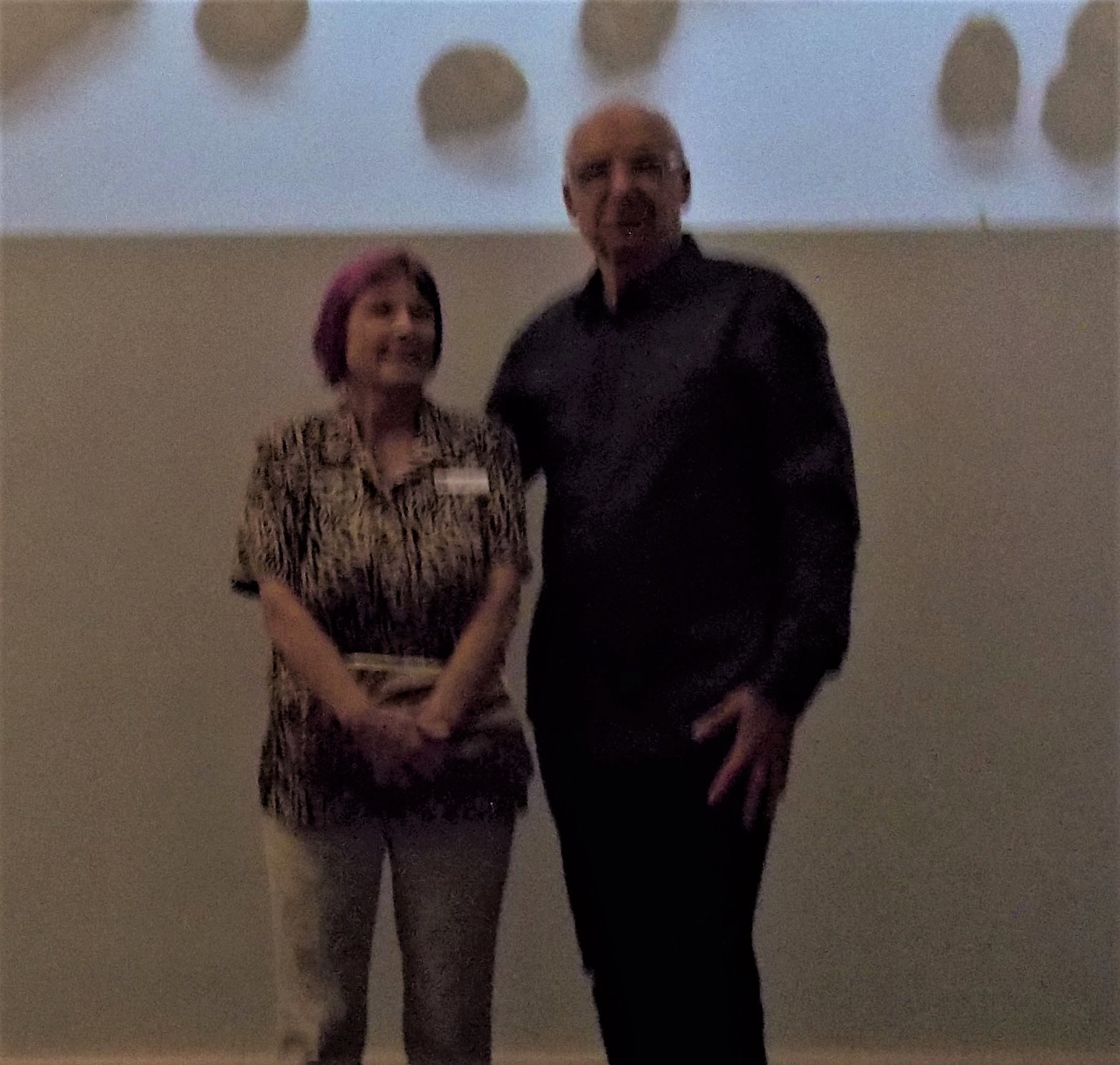 GARTH CLARK. writer and commentator on modern and contemporary ceramic art and a critic of the craft movement.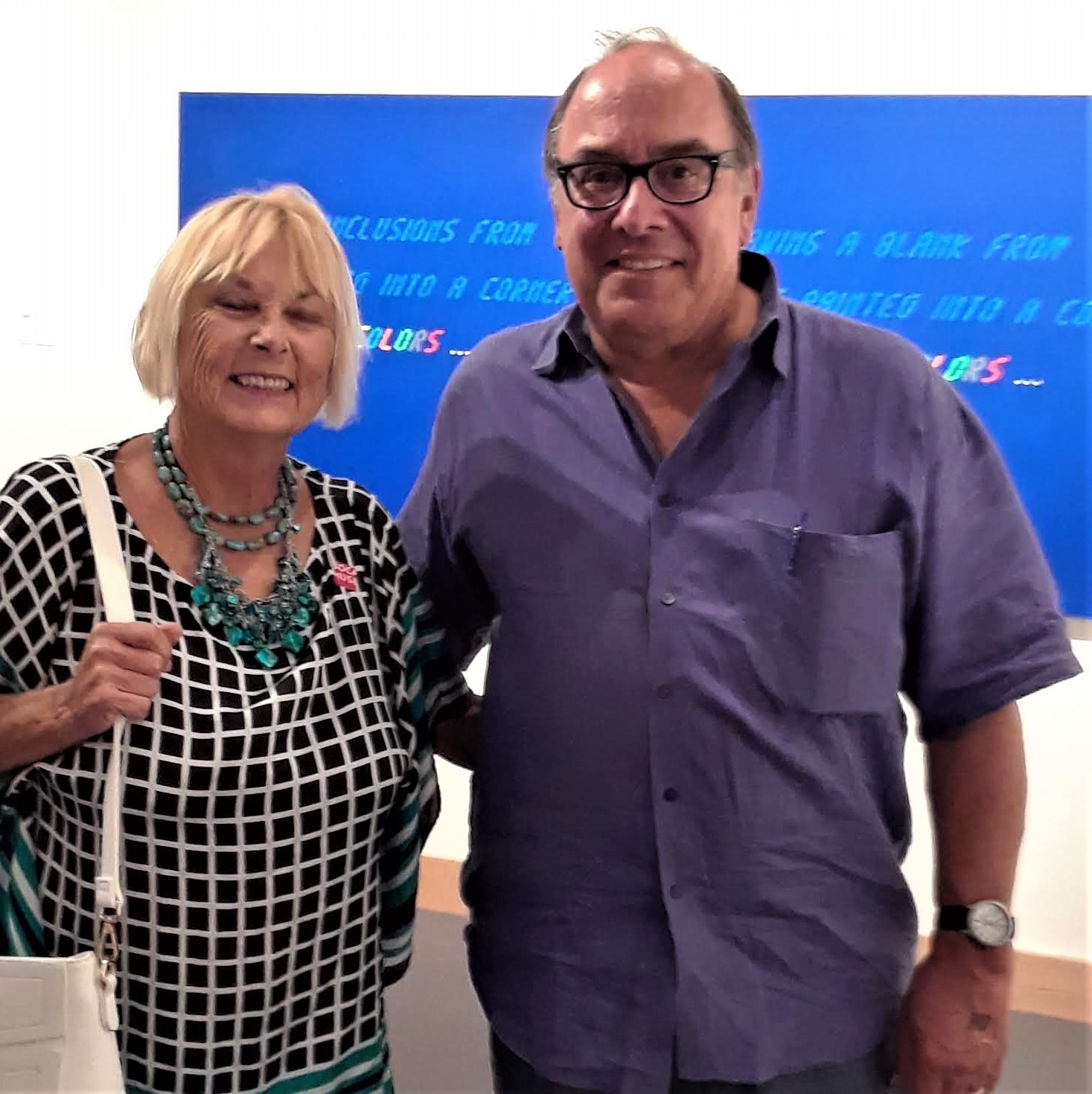 JOHN BOONE. His artwork consists of colloquial expressions painted in a digital font.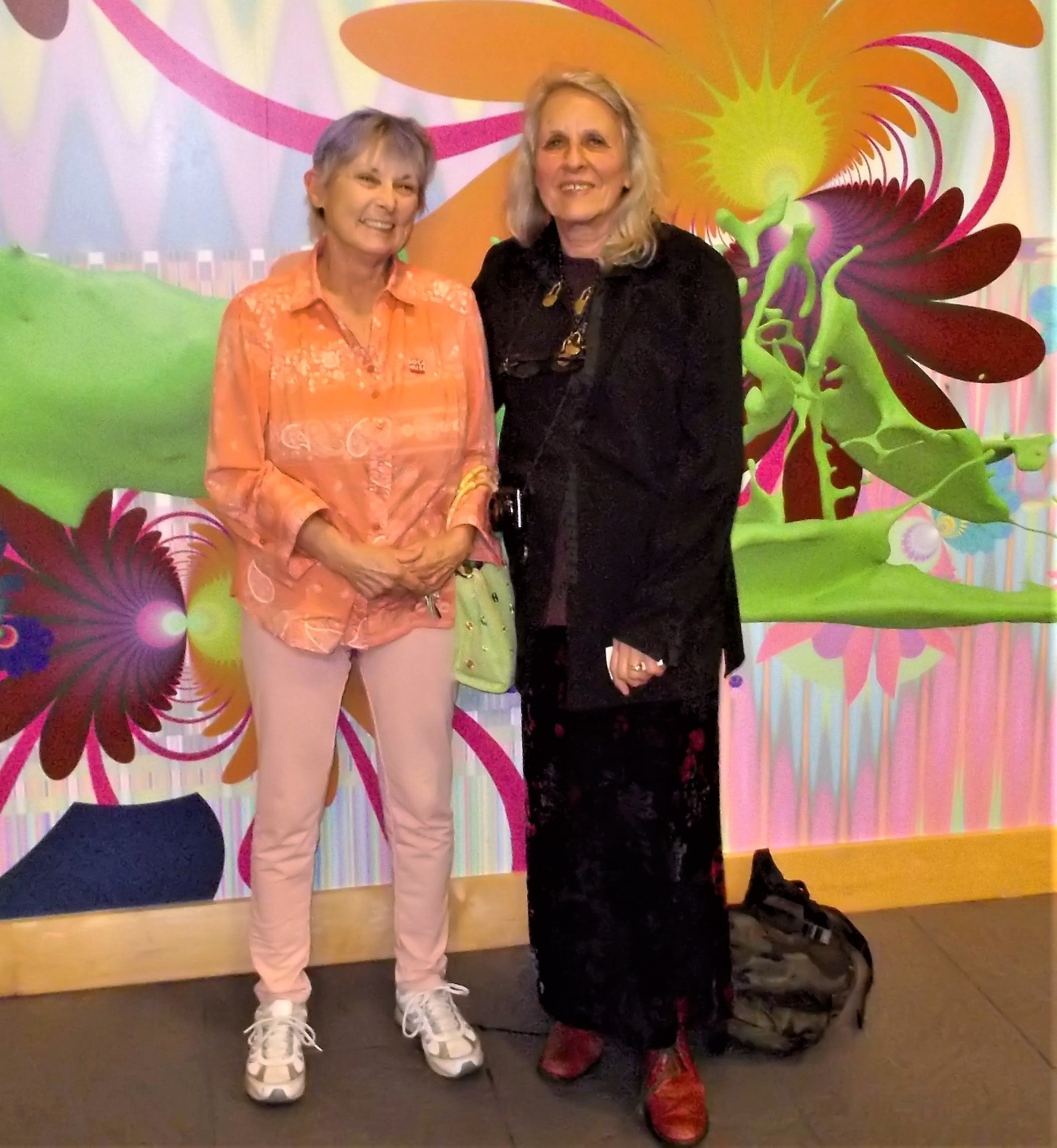 Sylvia Plachy, Village Voice photographer, Adrien Brody's mother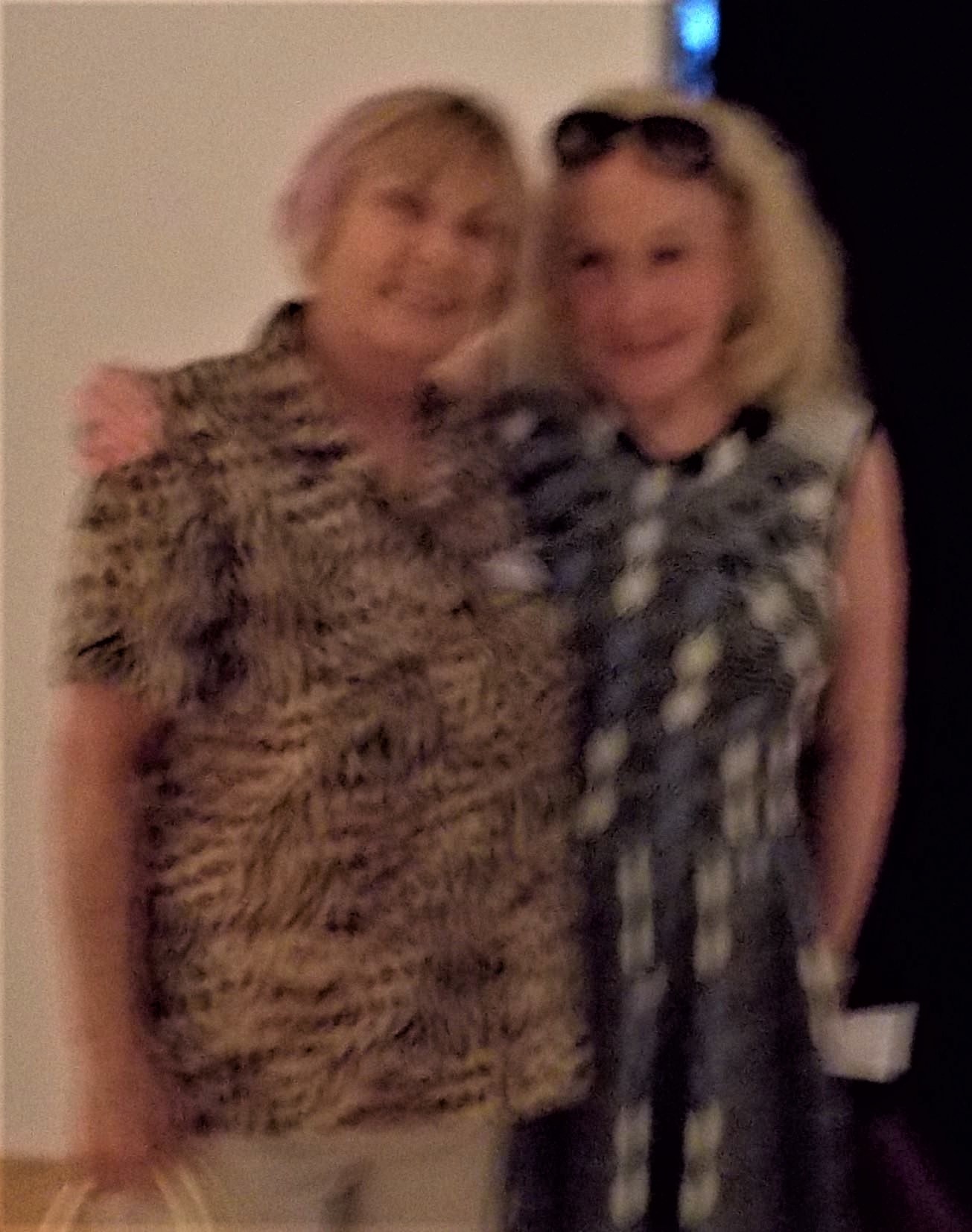 PATRICIA NIX. Painter and sculptor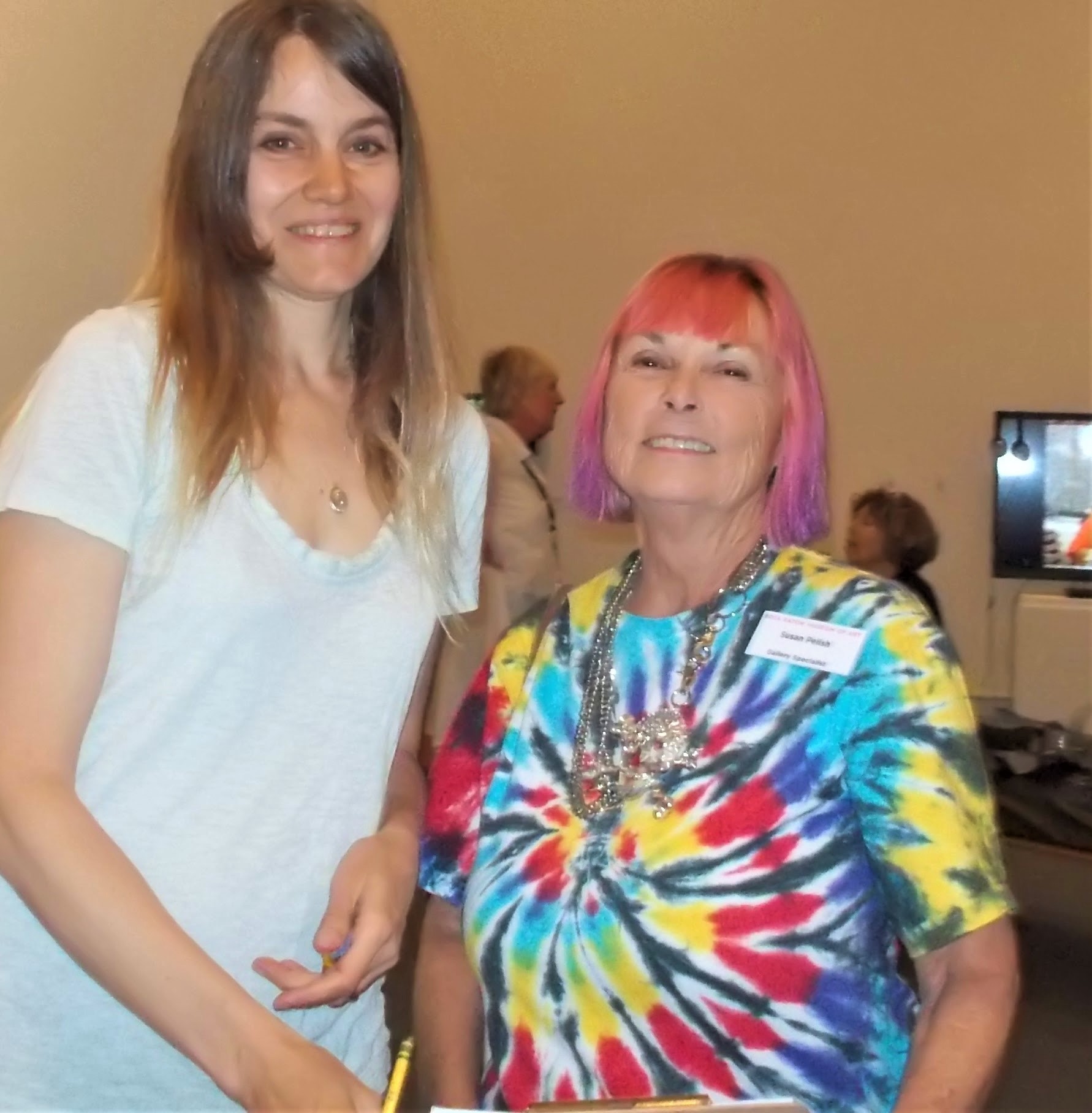 Videographer

CHARLES MCGILL. Sculptor and educator,

JAMES RANDI. Magician and scientific skeptic.
The masterworks in the museum started to revive my creative impulses. This glittery sculpture was the reason I started to include reflective surfaces in my new abstracts.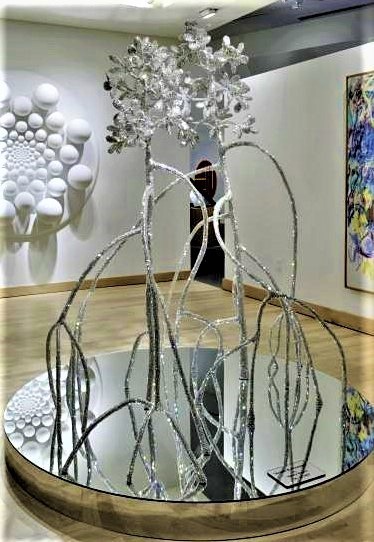 WENDY WISCHER. ANGELS AND ANCESTORS. 85,000 Swarovski crystal. 78×60 inches.
Her art introduced me to light wire. This painting has sound sensitive light wire.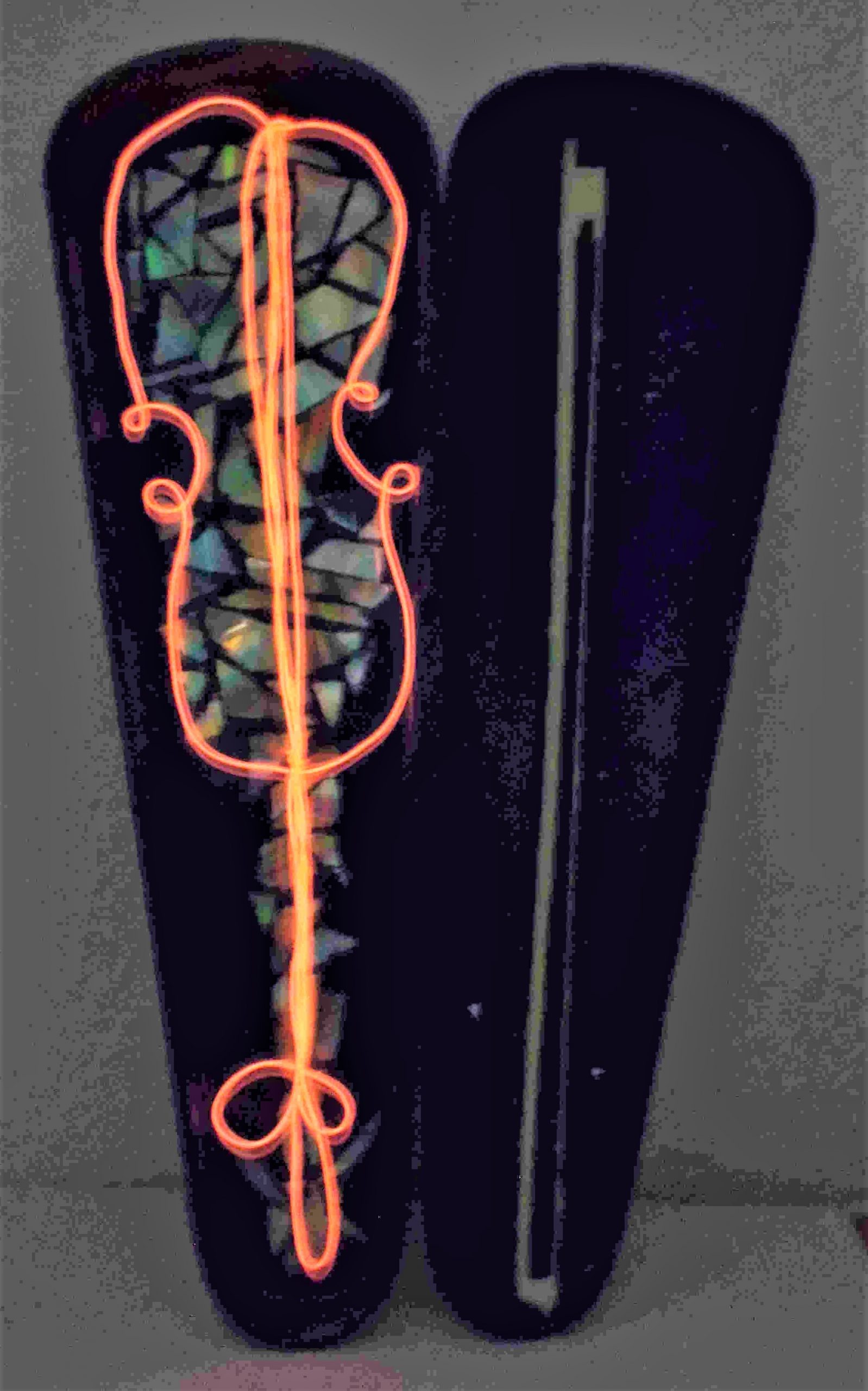 VIOLIN. violin case with sound sensitive light wire, reflective surfaces and glow in the dark bow. 20 x 30 x 3 inches.
ILLUMINATED VIOLIN. assemblage with violin case. 30 x 20 inches.
The light wire reacts to music, a voice, laughter, and lightening.
Even in the dark my paintings were eye catching.

BLACK LIGHTENING. collage. 36 x 48 inches. Day.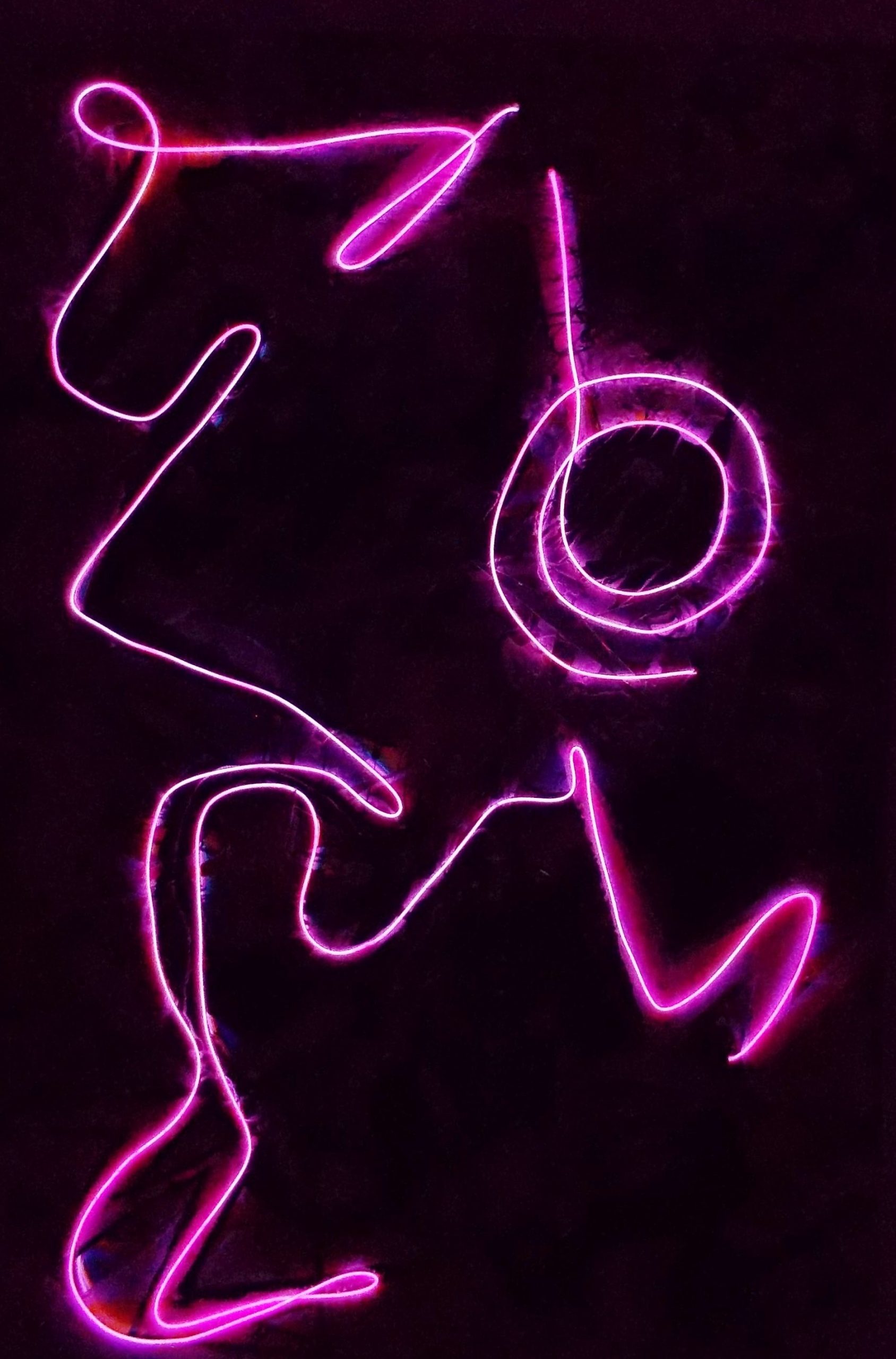 BLACK LIGHTENING. collage. 36 x 48 inches. Night.
HIGHLAND BEACH LIBRARY SHOW.
The library's art gallery was large enough for me to hang many abstracts. I had a beautiful reception attended by the Boca Raton Museum of Art executives and many docents.
The gallery doubled as a movie theatre at night. When they dimmed the lights to show the first movie one of my paintings began to emit an eerie glow.
The glow was created by glow in the dark paint applied in strategic places.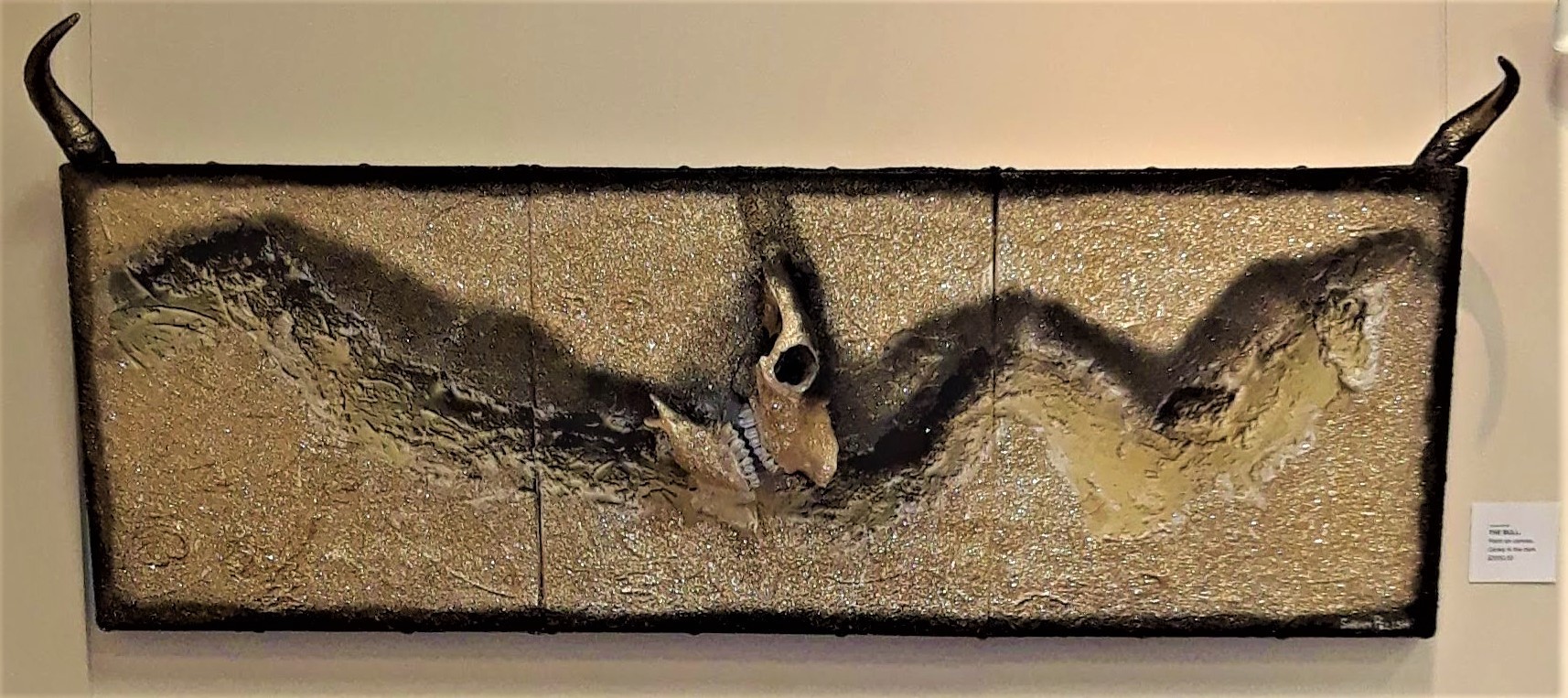 BULL. Assemblage. 6 x 3 feet.
I enjoyed an abundance of all kinds of paint and art supplies because the garage sales in Boca Raton reflected the best of American over purchasing.


TAPESTRY. house paint, sunglasses and tablecloth. 6 x18 ft.
I was slow to throw away the empty paint pails. My imagination transformed them into a fantasy revenge of nature.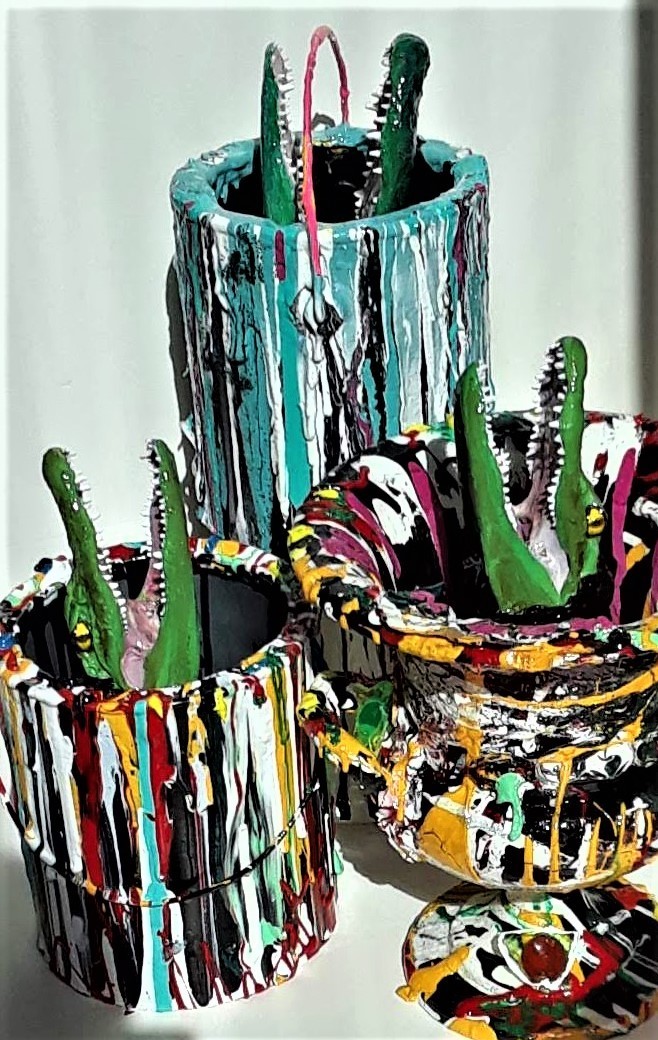 TWO ALLIGATOR PAINT PAILS AND ONE ALLIGATOR TROPHY. Assemblage. 16 x 10 inches.

ALLIGATOR PAINTPAIL WITH TWO GOLD BELLS