FLORIDA
Our move to Florida was done in stages beginning in 1975. The Coconut Grove Art Show in Miami triggered my artistic instincts, and it
was then that I began my sculpted oil and acrylic beach paintings on tempered Masonite.
BEACH PEOPLE.
These figures were a study in perspective and realism. The shading and color was influenced by Frank Frazetta, the legendary comic book illustrator. The beaches of Boca Raton were the other powerful influence. The colors and sunbathers on the beach inspired me to create a series of photorealistic cutouts of beach people and wild animals coexisting. The wall transformed into the sandy beach. Don Mahoney carefully transported the paintings from the Poughkeepsie NY Beach People Show and I began entering and winning many juried shows. With these paintings I established my artistic presence in South Florida.

ELEPHANTS, RHINOCEROS, AND BEACH PEOPLE. 10 ft. x 6 ft. oil and acrylic on 1/8 inch tempered Masonite. Individual cut outs.

BOCA BEACH VENUS , Oil on 1/8 inch tempered Masonite. 7 ft. x 5 ft.

BOCA BEACH. Oil on Masonite 8 ft. x 3 ft.
Merit Award, 29th Annual Exhibit, Boca Raton Center for the Arts. 1980

BEACH ALCHEMY, Oil on Masonite. 8 ft. x 3 ft.
Won Entry, 30th Annual Exhibit, Boca Raton Center for the Arts. 1981
BEACH MAN WITH WATER BUFFALO. oil on tempered Masonite 6 ft. x 5 ft.
Excellence in Oil, Broward Art Guild. 1978,Won a place in the The Society of Fine Arts 44 th Annual Exhibition of Contemporary American Painting. 1982.
THE BREAKERS. A1A, Boca Raton.
We rented a townhome at the brand new Breakers.  I had a BEACH PEOPLE show with Robert Berry and Estelle Chwat in one of the brand new condo that we converted into a gallery. 

Ruth Feigl was an encouraging influence in my career. She and her husband Ken purchased some of my best work.

Robert Berry joined us.
BEACH MAN ON GOLD BLANKET WITH THREE RHINOCEROS. Oil on 1/8 inch tempered Masonite. 8 ft. x 8 ft.

BEACH VENUS and BOCA VENUS with HORIZON. became a focal point in the collectors home.

BEACH SCENE WITH RHINOS
The large white walls were perfect for my large cut out Masonite BEACH LANDSCAPES.
This led to a commission for a beach painting.

This A1A ocean side mansion was a great home for this painting.

BEACH WITH FISH AND PEOPLE. acrylic on canvas. 8×5 ft.
COPPER ROOFING AND SCULPTURE
Jim shifted gears from solar to custom roofing. He built an impressive list of clients.

Hamilton Place in Woodfield Country Club  were clad in standing seam copper roofs.

His roofs gleamed in the Florida sun and they stayed gleaming because he coated them with clear Imron, a 2 part mix very durable car paint.
Jim and I combined copper with the glass.

WALL HANGING . Carved and colored glass with patinaed copper. 6 x 5 ft.
A FAU art professor commissioned this copper mural for his 4 story tree house.

SUBERMAN MURAL. Patinaed and shiny copper. 14 x 7 ft.
I used a roofers trick to get the copper to turn green on this door transom. Diluted sprayed on Sal ammoniac.
BARRY AND JOANNE EPSTEIN TRANSOM. Patinaed copper. 5 X 4 feet.
Jim and I worked together on this copper door.

Careful planning incorporated the bronze handles into the design. This photo was 10 years after we sealed the copper with Imron. It

needed repair by the right handle.

PEYSER COPPER DOORS. Hammered and bent copper with Imron.
 8 x 7.5 feet.
We worked together on this commissioned fireplace screen. Metal by Jim, Glass by Susan. We never disagreed. Isn't that right, Sweetheart. 
FIREPLACE SCREEN. Carved glass,

Muntz metal frame with Imron. 40 x 30 inches.
THE EAGLE SIGN, BOCA RATON ELEMENTARY SCHOOL
Jason and Amber enrolled in the Boca Raton schools and at Amber's school, Boca Raton Elementary, I volunteered to create a new sign for the exterior west wall.  Each student's name was painted across the wings.

I wrote Amber and Jason in the eye.

Jim and his solar crew hung the sign. It was 3 separate sheets of 4×8 plywood that I keyed together to hide the seams.

Both my Beach People and The Eagle Sign are examples of cutouts or sculpted edge paintings.

After 30 years of watching Florida sunsets, the EAGLE SIGN was retired.
XEROX
The early advances in Xerox color printing led me to create a series of collages using color Xerox, photography, and sliced acrylic paint.

CHECKERBOARD TRANSFORMATION. 9 x 12 inches. Color Xerox.

LOOK OUT FOR SUSAN AND ALLYN. Photo, Xerox, Slice art. 36×16 inches
Won first place in The 32nd Annual Competition Exhibit, Boca Raton Center for The Arts.1983.

 
XEROX PORTRAITS.

 
I photographed Jim and Jason. This is the result of cutting and pasting the xeroxes.
 



JIM AND JASON COMBINED. Black and white Xerox and paint. 8.5x11inches.
FISH SCAPES
Our next home was on the corner of NW 2nd Ave and NW 7th St. was an Addison Mizner stucco house built for the workers at the

Boca Raton Hotel and Club.  Jim remodeled it back to its original beauty. He exposed the Pecky Cypress ceiling and Dade County pine

floors. It proved to be a perfect place to display my sculptural landscapes composed of schools of fish.

The beginning of this series was an imaginative idea. What would the ocean look like if all the fish poked their heads up above the water if even for
a few seconds?

ANTICIPATION.  Pencil and ink on watercolor paper  16 x 12 inches

THE ANNOUNCEMENT.

THE GATHERING

THE SHOCK

ACCEPTANCE.
These seascapes became 3 dimensional surreal environments with my concrete fish head sculptures.

CHECKERBOARD COBIAS. Concrete with photo sensitive emulsion creating the wrap around checkerboard pattern. The cast cement fish heads were placed on painted roofing slate. h=14″ 4 x 4 ft.
Won entry in Boca
Raton Center for the Arts, 31 Annual Exhibit 1982. 

The fish heads were cast from molds made from cobias with 100% silicone. Their eyes were spiral seashells. 

I photographed them at the beach

to recreate the Sea Scape drawings.

MARLIN. painted cement. 18 x10 inches.
Sorry to say that the BLACK FISH were witness to an unexpected tragedy.

The men are pointing at Cuban bodies in the surf.

BLACK FISH. cast cement. 18 inches.
I enjoyed displaying my 3 dimensional landscapes in my front yard.

 WHITE FIRE FISH. cement sculptures with fire. h=18 inches.
KEY WEST
Jim was made an offer he couldn't refuse. His building partners from Woodfield Country Club became bar owners in Key West on

Duval St. They included Jim, and overnight he became part of the all night bar scene for a year. The bar was named UPSTAREZ. It

was on the second floor of Rumrunners, and played top 40 Hip Hop. I was given the honor of acid etching the 24 ft. mirror behind the

bar and decorating the walls. 

LION'S HEAD WALL.  Lions head wall fountain and Fluorescent paint. 12 x 8 ft.

PAINTING FROM HELL. Urethane foam and fluorescent paint. 8 x 12 ft.
Amber, Jason, and I joined him every chance we got. Each day and all night was filled with unforgettable events. The bar closed before
we sustained any permanent damage.
GREAT WHITE HERONS
NEWPORT BUSINESS CENTER, DEERFIELD BEACH needed to be noticed.

Their landscapers, SWA GROUP hired me to install 75 GREAT WHITE HERONS on an inland in front of their business center.

Installation of GREAT WHITE HERONS. 
in Deerfield. I populated an island

visible from I-95 with 75 larger than life Great White Herons for the SWA landscape group.

Here are the 3 poses. HUNTER, THINKER, SEARCHER. h=6ft. Solid white Portland cement, powered glass, and white silica sand.
They had yellow painted rebar legs and large glass taxidermy eyes. There were 2 rebar in the neck for extra strength.

I used the simple elegant lines of Egyptian art.

Here's the mold process with birds in different stages of completion.

Progress in my yard.

They were transported to the west side of the lake.

Each bird needed my personal attention.

Jim found the perfect boat to ferry the birds to the island. It was already cushioned.

The boat was overloaded on every trip.

Back and forth.

Forth and back.

Jim made sure every 80 lb. bird was carefully unloaded.


Painting a slurry of cement, sand and glass cleaned up transportation dirt.

The final touch ups.
 
Placement of each bird was considered. A natural looking flock was our goal.

Some of the leg holes had to be drilled on site.

The representative from the SWA Landscape Group and I enjoyed the success of the installation.

W

e noticed a slowing of the traffic on I-95.

Traffic backed up to Palmetto Parkway at one point during Thursday night rush hour. A bus even stopped on the side of the road to get

a closer look.

That night I received a few calls from angry and annoyed I-95ers who had spent their evening stuck in traffic.
Within a week, half of the birds disappeared. It was discovered that a panel truck with a boat removed the birds under the cover of

darkness, never to be seen again.
201 NW 7TH ST.
My yard exposed the birds to the public. The news papers did a few articles about my installation.


Lighting added drama after sunset.

Jason learned their complicated language.

My sister allowed her daughter, Lara, to have a ride on Rester, one of the gentler herons.


I Decorated each one for Halloween.

Homeowners orders were custom colored.

THREE GREAT BLUE HERONS.

Residential

installation.
RIVER BRIDGE.
Exxon Corporation needed 50 birds for their new residential community in West Palm Beach. I installed this flock the day before

Halloween. There was a lot of vandalism aimed at the flock that night.

The installation was completed. I went to the office to meet with the Exxon representative. He was displeased because the birds had

yellow legs. No problem. I fetched my Audubon Field Guide to North American Birds from my truck. I showed Mr. Exxon

that Great White Herons come equipped with yellow legs. He paid the remainder of the contract. We were both happy.
LION WALL FOUNTAINS. 
My next project was for another Florida developer. He used them in his Boca Raton and Palm Beach mansions I changed to fiberglass to make them lighter

.

LION WALL FOUNTAIN. concrete or fiberglass. 30 x 30 inches. 
My inspiration was a regal African Portrait. 

My inspiration, an African sculpture.
ACTING.
Jim's friend from Poughkeepsie and fellow roofer, Stet Blanchard, became an actor on Miami Vice. Convinced that he was also

capable of landing a few roles, Jim went to some workshops given by casting directors, had professional headshot taken, and started

going to casting calls. He was too blond for Vice but he did have a great ability to ham it up in front of a camera. It paid off. 
BROTHERS OF WAR. Filmed in Santo Domingo. I joined him on set with my camera.

Vic Rivers, far right, worked for Jim roofing between movies. He is in many popular movies. Tie your shoe, Jim.

The conditions were primitive in this non union war movie.

Jim played the agent for his showgirl wife, sent to Vietnam to entertain the troops.

The Santo Domingo extras loved showbiz.

The ground served as a dining table.

Spritzing Jim. Not necessary. He was already sweating due to the tropical heat in the Santo Domingo Botanical Gardens.

Sergio Valenti's brother, Ugo produced this never to be released film.

Jim made friends wherever he went. The gentleman on the right spoke eight languages. Too bad about the pants, Jim.

The boat was filled with explosives and Jim gets exploded into the water. Some of the other things he was encouraged to do for the art of acting was drive a Jeep and crash into a tree, and fall in a six foot hole with a huge real snake in the bottom.

He drowns. Things in the mud were nibbling on his ankles.

He can't move.

Happy to reach the bank, he was informed that it was not over.

He was handed a condom filled with fake blood. He had to return to his favorite spot and squeeze the blood for his final dying scene.

Jim's movie wife, Sherrie Rose, and Vietnam soldiers, (Santo Domingo extras).

Even with all the harrowing moments it still beats roofing!
SUMMER JOB. Filmed in Miami.
This movie became a cult classic and Jim was recognized in public as Mr. Jacobs. I visited the set with my camera. Sometimes I

stepped in front of their cameras, and became a real annoyance to the crew.  Eventually I was asked to back off.

Jim played the part of a surf shop proprietor. 

He found a Playboy Magazine. It was his prop to add to his lecherous personality.

He meets Big Fanny Annie, a true showgirl. She is the reigning Queen of Las Vegas Burlesque.

In the pool scene, she put her hand on his head, he jumped up so it appeared that she yanked him four feet out of the water. They worked this plan
out before the scene began.

Jim and Fannie Annie at the wrap party. It was an unforgettable event. There was live music by ELO. Jim wore his best socks with his flip flops.

Fannie Annie visited us in Boca and gave me her limo. The backseat was perfect for delivering glass sculptures.
Jim landed a starring role in a ZZ TOP MUSIC VIDEO.
BURGERMAN
Jim played a rude guy who turns into a hamburger. He had to fall into a putrid pond located in the long abandoned Miami Z00. I visited

the set with my camera, and his moves on camera both delighted me and shocked me.

As Jim exited his truck, he pulled is dungarees from his butt. Still yanking, he

walked up to the window to order a burger, and harass the waitress.

He's cringing as he's looking into the stinky swamp knowing he has to fall in to it.

The polluted water transformed him into a hamburger. I tried to comfort him. 
TONY RANDALL MOVIE.
I had my 15 minutes of fame when I was chosen to be an extra in a Tony Randall film.

Mr. Randall was nice enough to pose with everyone in the movie. I was dressed for a bitterly cold day. The movie was shot at the

Hotel Continental in Miami. It was never released. That's showbiz.
DROP ZONE.

Jim was in the bar scene at Alabama Jacks on Card Sound Road. My sister and I sneaked on the set. She was a wild life rescuer and

with her nets we pretended we were there to rescue an injured pelican.
In this scene Jim is to the right of the flag. He was the flight supervisor for the trainees.

My sister and I are still looking for that injured pelican.
RUNAWAY DREAMS,
Filmed in Miami but n
ever released. He played a food truck worker. He got the deluxe mustard and ketchup treatment.

Serious ketchup placement.

Ready for the first customer. 

Quality League HAM.
Jim left acting when he started working with me in the glass studio. He said acting was too boring.
EDUCATION
My college education started in 1964 at Pratt Institute and ended 30 years later at Florida Atlantic University in 1994. Professor Angel

Di Cosola at FAU was my mentor in the ceramics department. The clay was alive compared to the cold hard glass that I had grown use to. I

started to have fun.

TRIPOD. Ceramic, paint, fur. 8 x 5 x 5 inches.

TAIL BOWL. ceramic, paint, fur. 8 x 5 x 5 inches.
Glass meets clay in this composition.

SHARD BOWL. 12 x 7 x 7 inches. Ceramic, glass and paint.
My self portrait was an out door home for lizards. Holes in my ears were the front door of this lizard hotel. The FAU mascot, the Burrowing Owl sits on my shoulder. 

LIZARD HOTEL. 14 X 20 X 9. Ceramic
I felt a new kind of freedom. Nothing was impossible.

MOTHER BUG WITH MOVEABLE LARVE. Ceramic, glass wings, paint. 17 x 7 x 8 inches.
The ceramic bone pile was a great treasure trove of colorful abstract shapes.

TOWER. Ceramic, glass, paint. 16 x 9 x 8 inches.
I threw a bowl and it transformed itself into these 2 profiles

FRIENDS.  Painted ceramic on welded glass stand 16 x 20 x 12 inches.
My 1994 F.A.U. graduation had Tom Brokaw as its speaker, but the best part was when Amber informed me that she was encouraged to go to college after seeing me graduate. I
set a good example.
TREES
Trees stand still. They are great subjects to draw. My first compositions involved the trees in West Park 

WEST PARK LANDSCAPE. Gold paint, pencil, charcoal on watercolor paper. 18 x 24 inches.

WEST PARK LANDSCAPE. Gold paint, pencil, charcoal on watercolor paper. 18 x 24 inches

WEST PARK LANDSCAPE. pencil, charcoal on watercolor paper. 18 x 24 inches
BOCA RATON BEAUTIFICATION COMMITTEE
The Boca Raton Beautification Committee invited me to join their organization. Their interest was to improve the tree canopy and

landscaping in Boca Raton. Under the enthusiastic and dedicated leadership of Joanne Landon, I was encouraged to use my tree

rendering talents. They asked me to contribute this installation of back lit carved glass to the Boca Raton Downt

own Library. 

THE HISTORIC GREEN BUTTONWOOD. Por La Mar Park. Boca Raton. Carved and edge lit glass. 12 x 7 ft. Installed in the Boca
Raton Downtown Library.
Next I painted the tree's portrait. It now

hangs in the office of the Department of Agriculture in Tallahassee.

THE HISTORIC GREEN BUTTON WOOD TREE. Por La Mar Park. Oil on canvas. 30 x 24 inches.
Also their pruning brochure needed illustrations. Here's a few.

QUEEN PALM. pencil on paper. 8 x 11 inches

CABBAGE PALM pencil on paper. 8 x 11 inches
The Mayor of Boca Raton, Mayor Hanson awarded me the key to the city for my contribution

The Grand Champion Trees of the United States became my next focus. I wanted to explore their sculptural beauty.

GRAND CHAMPION SHAVING BRUSH TREE.  

Boynton Beach. Acrylic on canvas. 30 x 24 inches.

GRAND CHAMPION GREEN BUTTONWOOD TREE. Palm Beach. Acrylic on canvas. 36 x 24 inches.
OUR FLORIDA FAMILY EXPANDS.
Our first grandson was born to my son, Jason and wife, Lisa.
LISA AND CAIUS pencil on paper 9 x 12 inches.

LISA AND CAIUS pencil on paper 9 x 12 inches.
Next Xavier, brother of Caius, was born.
XAVIER PELISH  pencil on paper 9 x 12 inches.
JIM'S AWARD
Jim wins 1st Place at 
The Society of Four Arts 63 Annual National Exhibition of Contemporary American Painting. Palm Beach
Jim's painting AMBER was awarded the grand

prize. There were 486 entries by 274 artists from 22 states. The juror was Susan Lubowsky Talbott, the director of the Des Moines Art

Center in Iowa, and from 1989-92 she was the director of the National Endowment for the Arts' visual arts program. She said about Jim's painting

"I couldn't get it out of

my mind. I felt this artist wasn't copying anybody. The most important thing I look for is individual vision-authenticity, something that

doesn't look like what everybody else is doing."

The event was a lavish Palm Beach affair.

The award winning painting, AMBER, Jim, and Mr. A. Atwater Kent, Jr. the generous art patron who donated the award, $5000.00. Of

course I take all credit for this grand honor, as I selected Jim's painting, expertly framed it, and entered it in this juried show. I also

entered a few of my own paintings. All my entries were rejected.
There was to be no 64th Annual Exhibition of Contemporary American Painting. A few years later we met a museum director from

Naples, Mr. Sonnenberg. Upon being introduced to Jim he recognized the name "Pelish" as the reason the historic show was

cancelled forever. It seems the Society of Four Arts directors were so conflicted by the juror's choice, AMBER, that they decided to

disband the annual show of contemporary painting for ever. Mr. Sonnenberg referred to Jim as a genius.

AMBER. Acrylic on canvas. 20×16 inches.
His did portraits of everyone he met. Here's a few examples.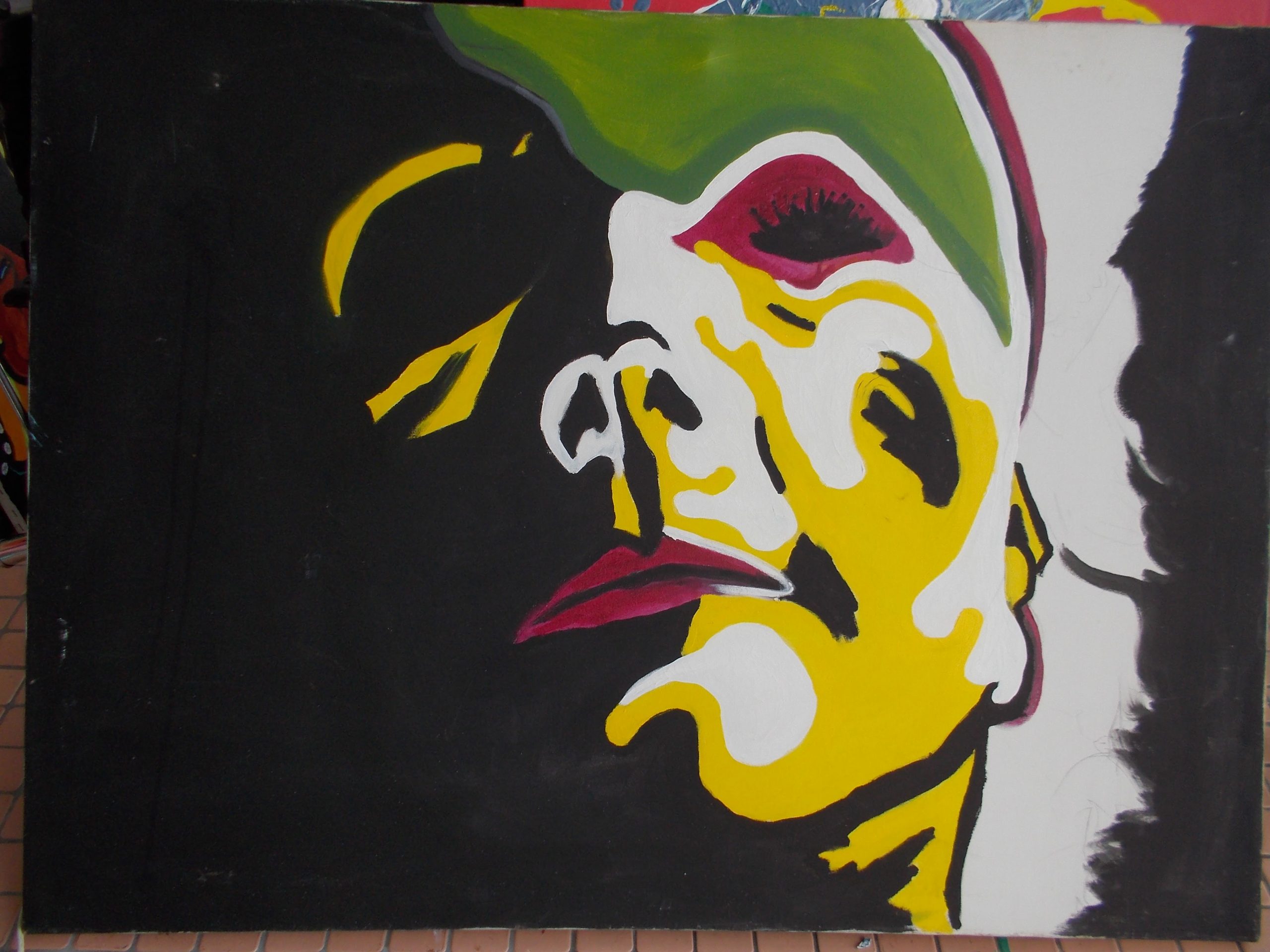 SUSAN. acrylic on canvas. 60 x 48.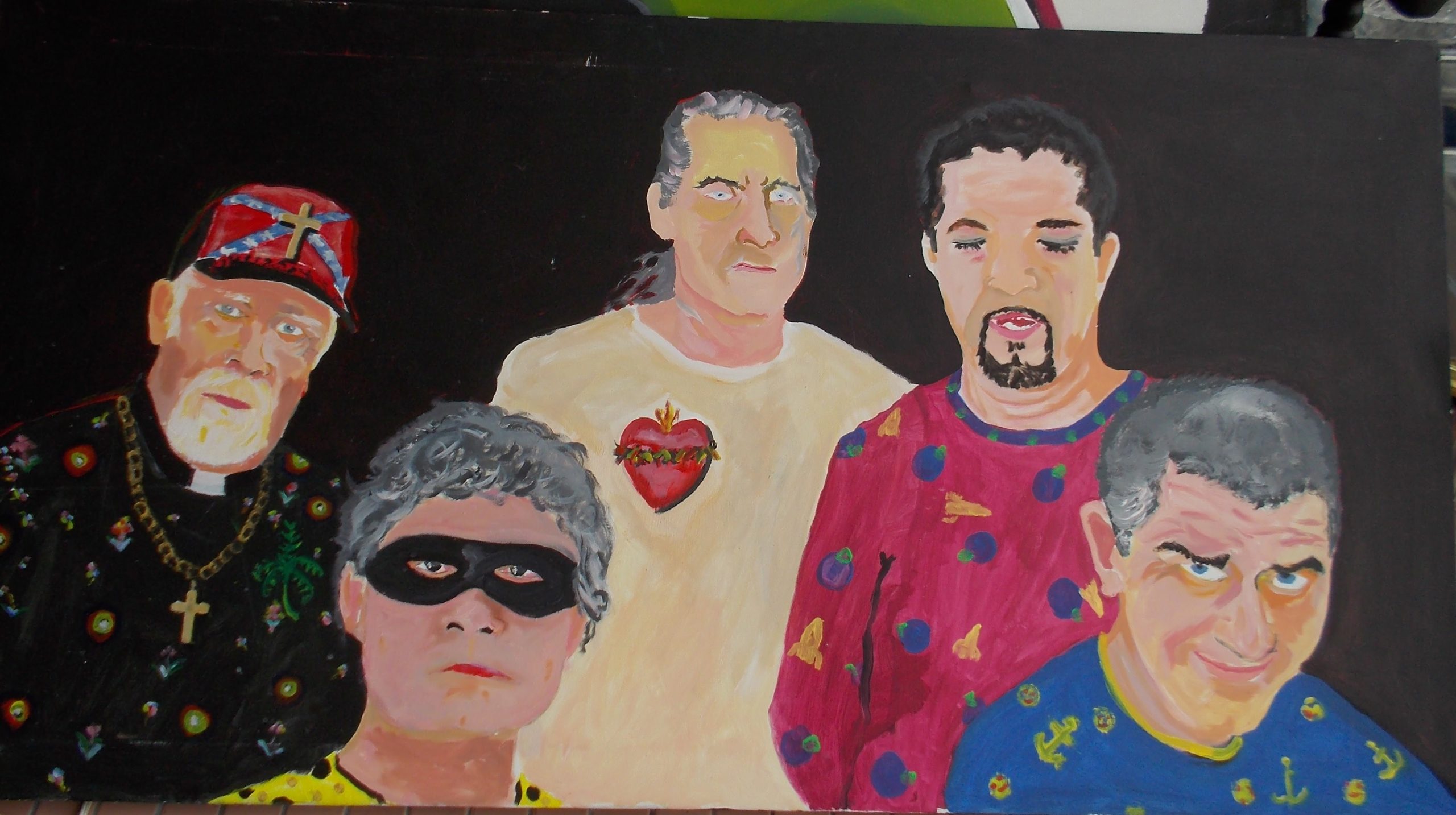 GLAZIERS. JOE ROTH GLASS CO. GENE BRADSHAW, FAUSTINO GONZALES, MARK, DANNY, JULIO VALDEZ. acrylic on canvas. 60 x 48 inches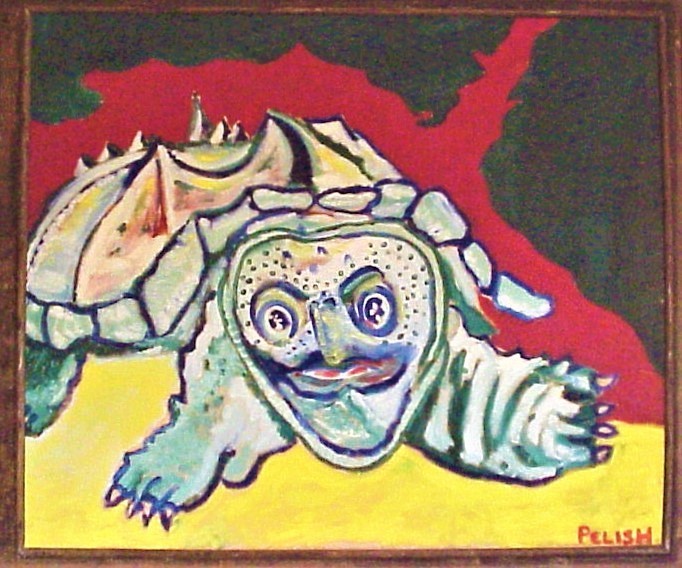 SNAPPER. oil on sneaker canvas stretched on window screen. 50 x 48 inches.